Reacting to a New York Times story about Deutsche Bank staff flagging 'suspicious' activity in Trump's and Kushner's accounts, President Trump again blasted the "Failing New York Times" for daring to suggest that Trump only banked with Deutsche Bank and Capital One because other banks didn't want to work with him.
Repeating a prediction that the NYT will 'pass away' when he leaves office in six years, Trump insisted that this notion is "WRONG"; He didn't work with other banks because he "didn't need the money," not because they wouldn't do business with him after his infamous string of bankruptcies in the 90s.
The Failing New York Times (it will pass away when I leave office in 6 years), and others of the Fake News Media, keep writing phony stories about how I didn't use many banks because they didn't want to do business with me. WRONG! It is because I didn't need money. Very old

— Donald J. Trump (@realDonaldTrump) May 20, 2019
….fashioned, but true. When you don't need or want money, you don't need or want banks. Banks have always been available to me, they want to make money. Fake Media only says this to disparage, and always uses unnamed sources (because their sources don't even exist)……

— Donald J. Trump (@realDonaldTrump) May 20, 2019
Trump added that the mainstream media has never been "as corrupt and deranged" as it is today, which is why it won't cover the "real" Russia hoax (the provenance of the Steele Dossier).
The Mainstream Media has never been as corrupt and deranged as it is today. FAKE NEWS is actually the biggest story of all and is the true ENEMY OF THE PEOPLE! That's why they refuse to cover the REAL Russia Hoax. But the American people are wise to what is going on…..

— Donald J. Trump (@realDonaldTrump) May 20, 2019
As for his relationship with Deutsche, Trump said they were "highly professional."
…..was very good and highly professional to deal with – and if for any reason I didn't like them, I would have gone elsewhere….there was always plenty of money around and banks to choose from. They would be very happy to take my money. Fake News!

— Donald J. Trump (@realDonaldTrump) May 20, 2019
He concluded with a prediction that the MSM would soon shift its narrative to questioning where Trump's cash came from, and whether Russia was involved.
….Now the new big story is that Trump made a lot of money and buys everything for cash, he doesn't need banks. But where did he get all of that cash? Could it be Russia? No, I built a great business and don't need banks, but if I did they would be there…and DeutscheBank……

— Donald J. Trump (@realDonaldTrump) May 20, 2019
And if you thought some of these tweets seemed a little disjointed, Trump confirmed that a couple of tweets from this thread never posted – he blamed some unspecified issue with Twitter – but that he wouldn't tweet the threat over because "only Democrats get do-overs!"
Though he later deleted that tweet, here's a screenshot.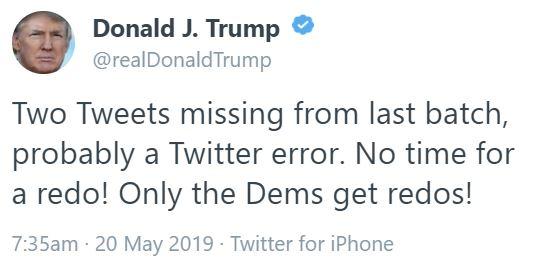 via zerohedge