Rep. Alexandria Ocasio-Cortez (D-NY) is taking heat this week after she casually compared the border crisis to the holocaust, drawing wide condemnation from Jewish groups and others who thought her comments were in extremely poor taste.
AOC compares Trump to Hitler here:

-'Never Again' references the Holocaust
-Concentration camps are a reference to the Holocaust
-AOC mentions WWII internment camps Japanese Americans were forced in
-Calling Trump a "fascist" is comparing him to Hitler given the time period

— Ryan Saavedra (@RealSaavedra) June 18, 2019
In response, the Jewish Community Relations Council of New York slammed AOC, writing in a Tuesday statement: "We are deeply disturbed by the language used in your recent Instagram live video which seeks to equate the detention centers on America's southern border with Nazi-era Concentration Camps."
AOC becomes Paul Nehlen is the heel turn none of us were expecting

— Michael Malice (@michaelmalice) June 18, 2019
"The terms 'Concentration Camp' and 'Never Again' are synonymous with and evocative of the atrocities committed by Adolf Hitler's Nazi Germany," the letter continues.
Enter liberal pundits
For some strange reason, several MSM pundits decided to die on this hill – defending AOC's comments by lying or splitting hairs. It was not a good look:
Chris Cuomo says the phrase "concentration camps" has no Nazi connotations but "America First" does

This is CNN pic.twitter.com/XLjJYGiDcg

— Jack Posobiec 🇺🇸 (@JackPosobiec) June 19, 2019
Chris Hayes drew a rebuke from the Auschwitz Memorial Twitter account after the MSNBC host suggested to Liz Cheney should 'learn some actual history' about the difference between 'concentration camps' and 'death camps.'
If you spend a few minutes learning some actual history, you will find out that concentration camps are different from death camps and have a history that both predates and extends far past the Nazis. https://t.co/Bccy3SaXW0

— Chris Hayes (@chrislhayes) June 18, 2019
@chrislhayes Please consider following @AuschwitzMuseum where everyday we commemorate and educate about the tragic human history of #Auschwitz.

— Auschwitz Memorial (@AuschwitzMuseum) June 18, 2019
Hayes eventually backed off, tweeting ""concentration camp" is an extremely charged term and I get why many people are, in good faith, uncomfortable with its application…"
And people are seeing right through these semantics games. 
AOC is using a hyperliteral definition of "concentration camp" as a shield to evoke the colloquial meaning that has been established in the American vocabulary for 75 years. And journos are helping her do it.

— Anders Hagstrom (@Hagstrom_Anders) June 18, 2019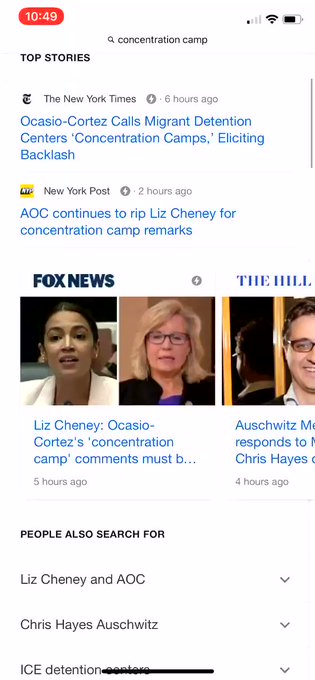 Before today "concentration camp" had a clear contextual understanding and was almost exclusively associated with the Holocaust.

Nearly every related search on Google was for Nazis and the Holocaust.

If you're defending AOC, you're a fraud. pic.twitter.com/XHngOpYrBH

— Mike Cernovich (@Cernovich) June 19, 2019
Clearly I need to explain that, in concentration camps, people are unjustly sought out and confined.

https://twitter.com/DanCrenshawTX/status/1141054338942607362
via zerohedge